Looking to go solar but not sure if your roof is suitable?
Every day, more Australians are making the switch to solar, with solar panels installed on over 3 million rooftops across the nation, and over 1 million solar hot water systems.
However, some homes might not be suitable for traditional solar hot water due to factors such as:
Too much shade: The likes of trees, chimneys and nearby buildings can impact the amount of energy produced by solar;
Slate roof: Slate is quite fragile, which isn't suitable for solar collectors; and
Roof orientation: Collectors facing north provide optimum performance. The solar radiation received by solar collectors reduces as their orientation moves away from true north by approximately 10% to 15% when facing east or west. Collectors must not have an orientation south of east or west as they will not receive sufficient solar radiation.
If any of the above apply to you, then a heat pump is the perfect alternative because it doesn't need to go on your roof. Heat pumps, like solar, produce renewable energy, but they use the surrounding air to heat water instead of the sun. In this article, we will explain how heat pumps work and explore key reasons why they could be a great option for you and your family.
Wondering if your roof is suitable for solar? Your local Solahart Dealer can conduct a safer home assessment to ensure the right system for you and your family.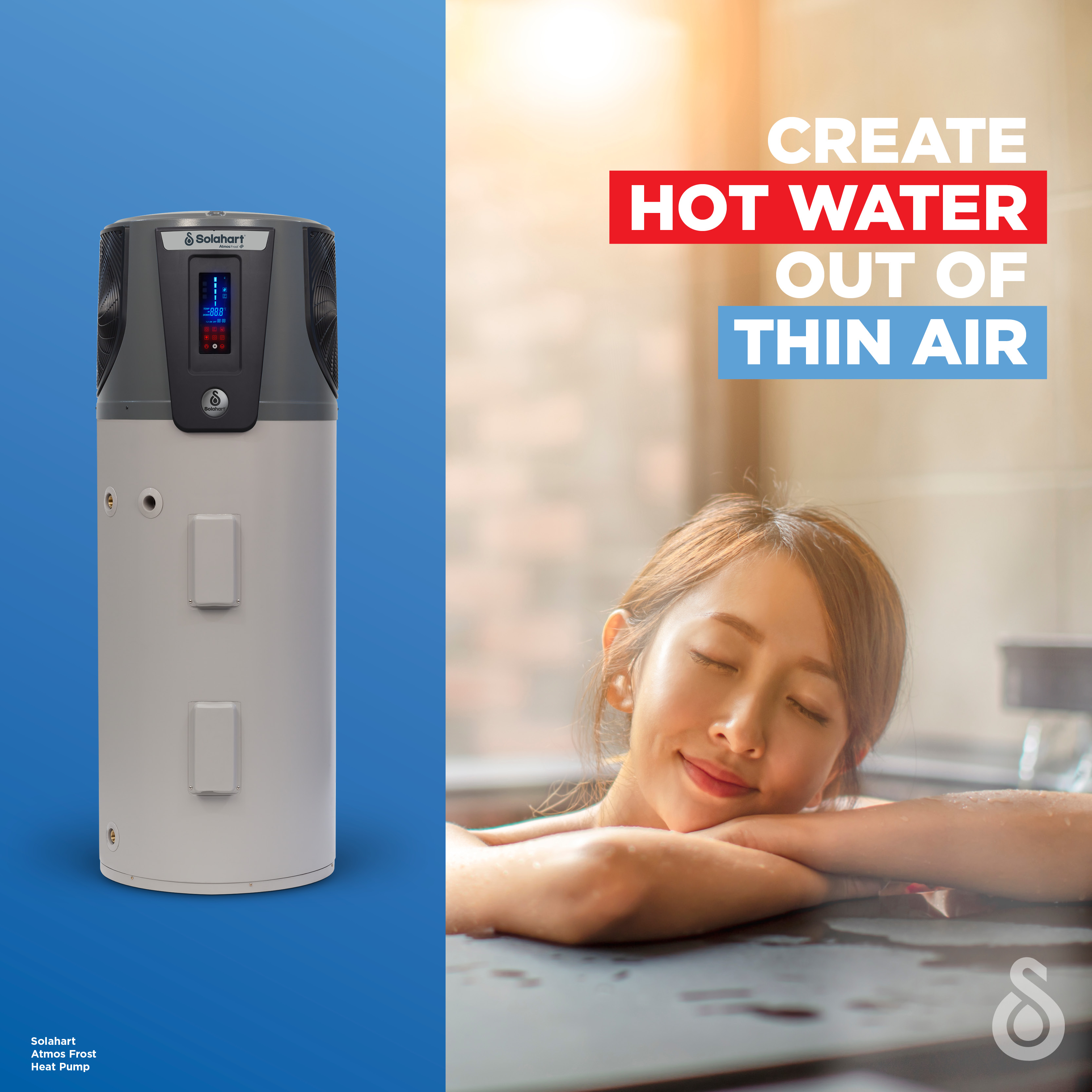 How does a heat pump work?
To understand how a heat pump works, think of an air conditioner on reverse cycle. It draws energy from the surrounding air and generates hot water through heat-transfer technology, a reliable and efficient way to reduce water heating energy consumption and cut greenhouse gas emissions without the need for solar collectors.
Even in cold conditions, the air has some heat which is available. For freezing conditions, a quality heat pump should have an electric booster function that will be triggered to ensure you and your family have a continuous supply of hot water. Plus, it prevents ice from forming in the waterways of the water heater and causing damage. 
Why choose a heat pump?
Here are three reasons why a heat pump may be the perfect a solution for you:
1. Great alternative in homes where traditional solar isn't possible
A heat pump provides reliable hot water for your family and is suitable for residential applications when you want energy-efficient hot water without the need for roof space for solar collectors.
They can usually be installed in the same location as your outdoor storage water heater, and can often be connected up to the existing plumbing and electrical connections, making it a great replacement for an existing water heater.
2. Eligible for Government Incentives
Making the move to renewable technology can sometimes be a costly investment, but the energy savings will go on for years. The good news is that a heat pump qualifies for government incentives known as Small-Scale Technology Certificates (STCs) that can be used as an up-front discount to reduce the cost of your purchase.1
Your local Solahart Expert can deduct the value of the financial benefit at the point of sale.
3. Reduce your hot water energy usage 
Hot water typically accounts for around 25% of an Australian household's energy use.2 As a heat pump uses the surrounding air to heat water, you can significantly reduce the amount of energy you consume to heat water, thus enjoying great energy savings.
Introducing Solahart Atmos-Frost Heat Pump
Solahart Atmos-Frost Heat Pump is the smart way to create hot water out of thin air. It can be installed in almost any location in Australia, as it is suitable for harsh water, cold climates, and tropical conditions. Also, it comes with an automatic boost mode to ensure you always have hot water even in very cold conditions.
Replace your electric water heater with a Solahart Atmos-Frost Heat Pump and you could save up to 73% on your hot water energy consumption.3 Also, this water heater qualifies for Small-Scale Technology Certificates (STCs), helping you reduce the up-front cost of your purchase. 
The video below explains how the Solahart Atmos-Frost Heat Pump works in further detail: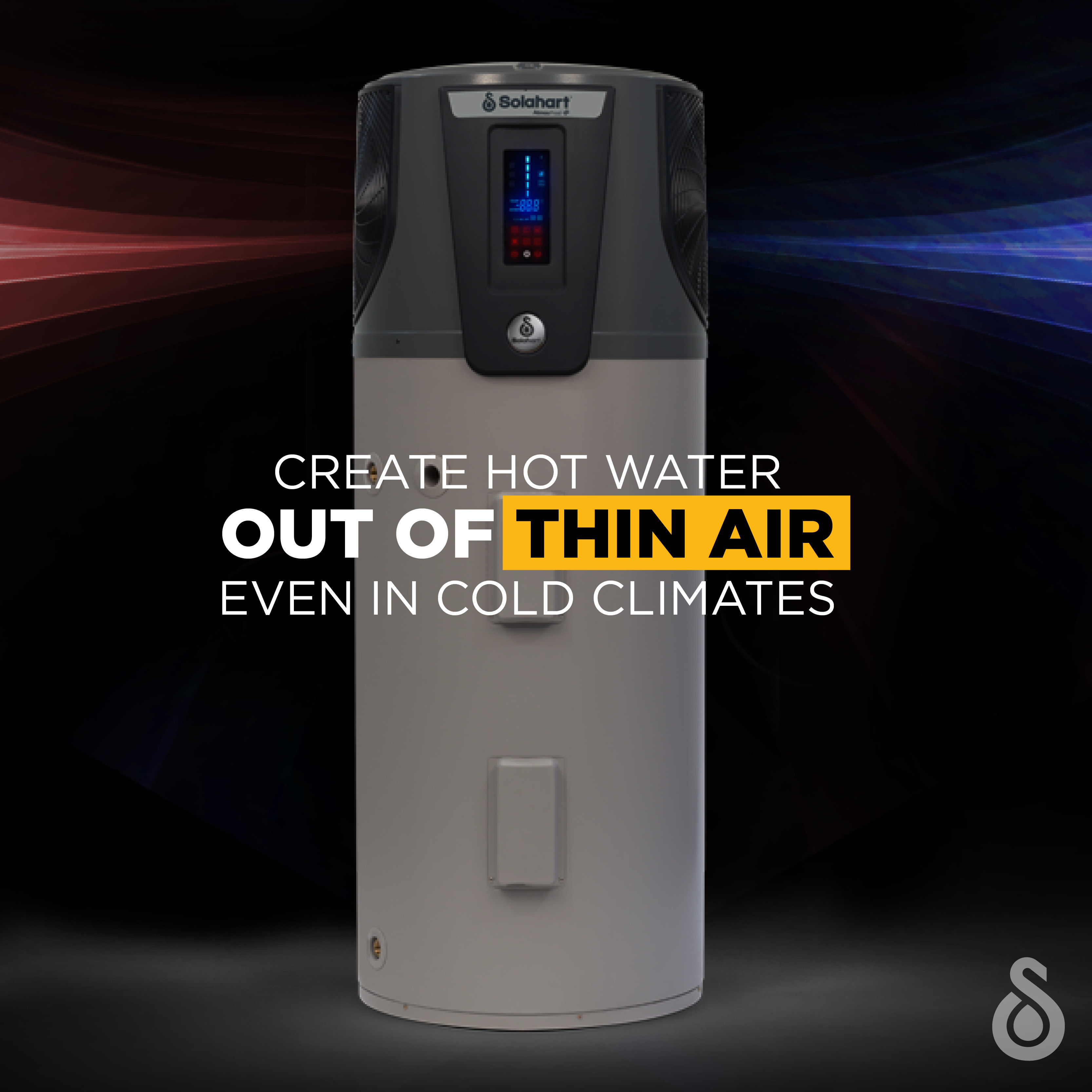 Solahart Atmos-Frost Water Heater
Looking to add a Heat Pump water heater to your home?
For more information or to organise a safer home assessment and get a free quote, get in touch with your local Solahart Dealer by filling out the contact form below or calling 1300 721 984.
Disclaimers:
1 - Small-scale Technology Certificates (STCs) are a financial benefit to encourage the installation of solar and heat pump water heaters provided under a Federal Government legislated scheme. STCs financial benefit value is subject to change. Your installation may be eligible. Please refer to www.solahart.com.au for further details.
2 - https://www.ga.gov.au/scientific-topics/energy/resources/other-renewable-energy-resources/solar-energy
3 - Energy savings of up to 73% shown is based on Australian Government approved TRNSYS simulation modelling of a Solahart Atmos 325HAV heat pump and using a medium load in Zone 3 and apply when replacing an electric water heater. Any savings will vary depending upon your location, type of Solahart system installed, orientation and inclination of the solar collectors, type of water heater being replaced, hot water consumption and fuel tariff. Maximum financial savings off your hot water bill are achievable when replacing an electric water heater on continuous tariff.